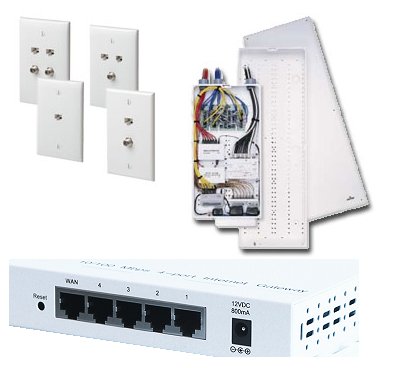 Components of Froula's Structured Cable Wiring System



The wiring infrastructure in most homes has not changed in 50 years and is unable to fully support the technologies that are available to consumers today. However, today's

structured wiring systems

are created to handle today's technologies and provide the electronic foundation for a "connected home." This advanced infrastructure is necessary to ensure that your family can be connected to today's services and prepared for new technologies. An advanced home wiring system is usually comprised of three main components:


The service center.

This service center is the part where all outside services enter the home, including cable TV, telephone, DSS satellite, Internet, etc. This central hub distributes these services to locations throughout the house in a way similar to how the electrical breaker panel controls electricity flow.


High-performance cables.

Certain services like digital satellite, high-speed Internet, and digital TV require high performance cables to allow full access throughout the home. Most systems include RG-6 coaxial cable for TV and video, and Category 5 or better twisted-pair cable for telephone and data. Coaxial cable provides maximum protection from interference with your TV picture. Category 5 or better cable provides high-speed access to multiple phone lines without cross-talk. These cables deliver all the performance you need today, while providing the capacity to handle tomorrow's technology.


Outlets.

The outlets in each room determine which services are available in that room. Each outlet can be customized to a consumer's specific needs based on which services are desired in each room (cable, Internet access, telephone, etc.). Without the proper outlets, the high-performance wiring behind the wall is of little value.
The following services are provided by our structured wiring system:
Telephone(s)MS2-U12-X
Television
Computers Network

Modem/Internet access
Fax machine
Cable access
Satellite dish